Improve the productivity and quality of life within your office with our cleaning and janitorial services
26 reviews on
Spotless Cleaning has been keeping our medical office shining for months now. Their attention to detail is unmatched and they always leave the place spotless. We appreciate the hard work they put in every night to make our space a clean and welcoming environment for our patients. Highly recommend for any office cleaning needs!
Lindsey Stepanishen
2023-01-06
I highly highly recommend Spotless for all your janitorial needs. They came out yesterday to clean my carpets, I have dogs so its always a bit of a mess. Cleber's (owner) team of men were punctual and arrived before my time slot which was appreciated. They took extra careful of my furniture and moving delicate items, as well as being conscious of what chemicals they use because I have pets. They took their time and didn't seemed rushed at all. I had used a prior competitor and my carpets looked like they weren't clean. Wish I found Spotless sooner!!Long story short, Cleber's company Spotless is well worth the money, its so affordable that I plan to have them come back every other month for maintenance on my carpets. Thank you, Thank you!!
We had new VCT Flooring installed and this company did a great job buffing and coating our floors. Thank you again and highly recommend!
At the recommendation of Marra Flooring in Ashland, we hired Spotless to clean our den rug. The rug was looking very dirty and really needed to be cleaned to freshen up the room. Klebber and his associate were fantastic! Our rug looks as good as new. Both Spotless and Marra Flooring were easy to work with on this project and would definitely recommend them. We will have Spotless back to clean other rugs in our home. P.s…very dog friendly which is a major plus in my book!
Recently used Spotless Janitorial to clean a large commercial building that I had recently purchased. The building has been vacant for a couple years and needed to be cleaned from top to bottom. I called Spotless Janitorial and Cleber answered and was close by so he took a ride over and within an hour he walked through to be able to give us a quote. I had the quote by the next business day and we were scheduled within a week.He and his crew went through the building, floors stripped and polished, carpets shampooed, walls and ceiling dusted, windows washed and everything is looking fantastic! One area that I had mentioned that I suspected had been overlooked and Cleber Followed up and made sure it was taken care of immediately. In fact he reserved sending the bill until I was able to go over and be sure I was completely satisfied!!!I haven't received customer service as good as I received with Spotless in a very long time! Highly recommend this company to anyone looking for complete satisfaction!
Spotless has been cleaning the store & café since 2018 and we couldn't be happier with their service! Our cleaning needs have changed several times over the years, and Cleber and the team are always willing to work with us to accommodate our requests. Across the board, the team is responsive, thorough, communicative, efficient, friendly and professional. Highly, highly recommend!!
Robert Ferreira
2022-05-04
Carol Santiago as the voice of Spotless has demonstrated herself to be a valuable resource to my clients and always approaches the work with the utmost of care. She knows that homeowners are at their worst and often stressed when they reach out and she is truly caring and helpful.
Superior Prefab
2022-01-15
We have been using Spotless Cleaning & Restoration to keep our business offices clean for more than 5 years, they are friendly, reliable and thorough. I have also referred them out for restoration work and clients have always been pleased with their service. Happy to recommend Cleber and his team!
Sy Bedrick -they-them-
2022-01-10
These folks are the best. They are communicative, professional, and kind. Ayo was especially helpful in clarifying the process of the mold removal and communicating with our unresponsive management company. She helped us so much and made us feel taken care of. The work was done efficiently. Highly recommend!
We had a flood in our basement recently and our insurance agent suggested that we call Cleber at Spotless Cleaning and Restoration. I called on Labor Day weekend and got an immediate response. Cleber and another member of his crew were at our house that morning with industrial equipment and expertise. They got the basement prepared to dry out and ready for the next steps. During the next few days and weeks we relied on Ayo, who works with Cleber. She was amazing. Ayo worked so diligently with our insurance company to get a resolution to our claims. She had the space tested for asbestos and had the appropriate company handle that for us. Through the next weeks she persisted with the insurance claims and arranged for mold remediation to be scheduled. All of this work was done by staff who are professionally trained, reliable and careful. I can't say enough positive things about the work done by Spotless Restoration. They truly helped make a positive experience out of our flood! Laurie in Framingham
See what is included in our commercial cleaning services:
Our professional janitorial services have the power to leave your floors sparkling, the bathrooms stocked, and your windows shining just like the sun.
Keep your company safe from the harm of potential illnesses caused by viruses, bacteria or germs. All corners of your commercial facilities are cleaned and sanitized to keep the space always healthy and safe.
Every inch of your company flooring will be shining just like a diamond! Enjoy the benefits of a clean commercial space that is organized and well presented to your customers.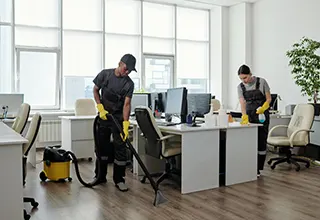 With our office cleaning, your establishment will be ready to make your team's work enjoyable, improving the service quality and totally satisfying all customers.
In order to assure your carpet renewal, we use products and equipment that completely eliminate unpleasant smells, stains or dirt that may be in it with efficiency and safety.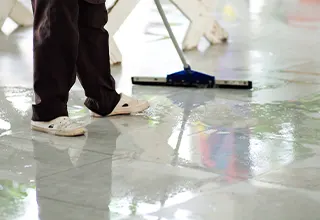 Post Construction Cleaning
We will eliminate all debris and dirt residues created during your construction in order for you to peacefully enjoy your space as quickly as possible.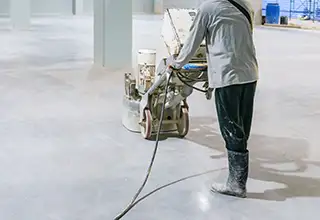 Our professional Concrete Floor Polishing service will give all your property rooms with a lovely appearance in a matter of hours.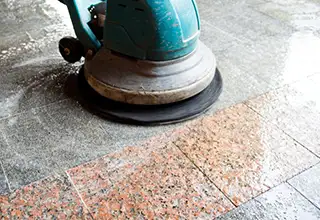 Your property flooring will be spotless and shiny with our cleaning. We own the correct equipment and apply flawless techniques to leave every inch of your space perfect.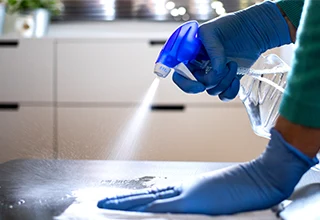 We thoroughly clean emergency rooms and urgent medical care clinics in order to offer safety to all patients and employees.
Take a look at how
simple

it is to hire our services
Some companies that trust our services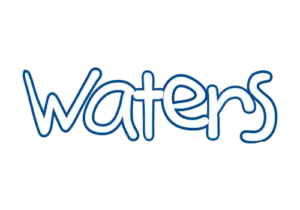 Is it really possible to raise your employees' productivity by keeping their workspace always clean?
The answer is yes! Let's look in depth at the reason why… You might be asking yourself, "How would a cleaning service help people's productivity? Learn more about the importance of keeping your business space clean and safe:
In other words, the consequence of keeping your company always sanitized and organized is a more productive and engaged team. When Cleber and Diana, the founders of Diana Spotless Janitorial Service, came from Brazil to the US, they brought with them impeccable work ethics along with the faith they had in their business. Which means you will always be treated with kindness, respect, honesty and trust. This is what we promise to you: